Major Declaration
You may log into MyUCSC and submit the Petition for Major/Minor via MyUCSC as soon as you have met the EEB major qualification requirements and/or reach your declaration deadline quarter, whichever comes first.  
Another way to access the Petition for Major/Minor via MyUCSC is by logging into your MyUCSC, navigating to the Student Homepage and selecting the Undergraduate Student eForms tile, then Petition of Major/Minor: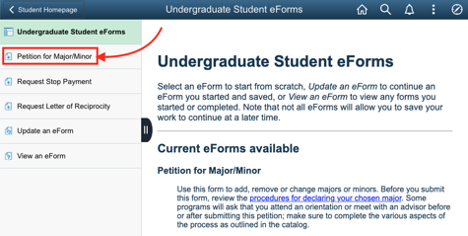 Before you petition to declare, please verify that you have met the qualification policy for your major. 

Watch the EEB major declaration video to plan for qualification in your major by your sophomore year.
 ______________________
Policy on Major Declaration Process & Deadlines: "Students must submit a petition to declare when the campus declaration deadline is imminent (i.e. in their sixth quarter, for students admitted as frosh), programs have to either allow them into the major, deny them admission, or set conditions (e.g. completion of some courses with certain grades) that will be resolved within at most one more enrolled quarter, even if they have not completed major qualification (MQ) courses."