Inclusion, Diversity, Equity, & Action (IDEA)
The UCSC Department of Ecology and Evolutionary Biology Diversity Statement
As a community, we acknowledge the richness of commonalities and differences we share, the intrinsic worth of all who work and study here, and that science and learning are enhanced by investigation of and reflection upon multiple perspectives. We also aspire to create respect for and appreciation of all persons as a key characteristic of our campus community and to achieve an environment that welcomes and supports diversity as well as ensures full opportunities for all who teach, learn, work and do research here. 
The Department particularly acknowledges the acute need in our field to remove barriers to the recruitment, retention, and advancement of students, faculty, and staff from historically excluded populations who remain underrepresented. The Department is committed to the full realization of its promise to recognize and nurture excellence by supporting diversity and equity in its outreach, education, research, services, and administration. 
Therefore, we commit to:
Fostering a space where a diversity of ideas, values, cultures, and perspectives are welcomed and respected

Growing the cultural competency of EEB students, faculty and staff

Better understanding and correcting systems of exclusion

Creating a dynamic, diverse, and equitable STEM community that represents the public that we, as members of a public institution of higher learning, are entrusted to serve

ANONYMOUS REPORTING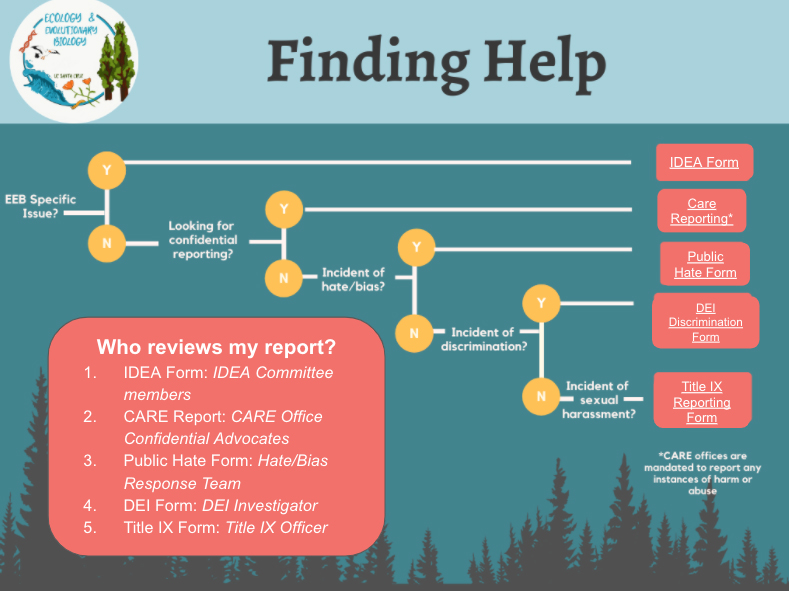 Hate/Bias Response Program                       Title IX Office website                     Department feedback form
                          website                                                                                                     reviewed by IDEA committee
OTHER SOURCES OF SUPPORT

The EEB Inclusion, Diversity, Equity, and Action (IDEA) committee consists of faculty, staff, graduate and undergraduate representatives who each serve a one or two-year term. This highly collaborative committee is charged with representing all department constituents as we strive to build a model for successful inclusion, equity and diversity practices that foster a sense of belonging and value for all members of our community.
The University of California recognizes diversity as integral to the University's achievement of excellence. We invite you to explore the many resources for students, staff, and faculty through a variety of partnerships on and off campus. You are an important member of this community and we welcome you to the EEB department.